Our Colorado College (CC) houses go quickly. Call Becky now to get your name on a house for 2019-2020 school year.
We rent by the house, not the room.  These are the 2019-2020 college year prices. Leases start June 1, 2019. We do allow you to sublet during the summer to other renters. So round up a few friends who are tired of the dorms and fill out an application.  The per student rent is an estimate, each group gets to decide who pays what, we rent by the house.  NEW this year trash collection included, All houses have washers and dryers.
Becky@Mrssi.com email or
719-332-3907 (text or voice)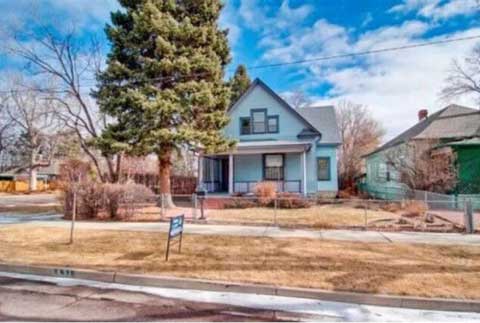 931 N Corona – 3 short blocks to CC
3 blocks to CC
6 bedrooms, 2 bathrooms, great kitchen, gas fireplace in common room, fun fenced yard, central air conditioning, washer & dryer. Two or three off street parking spots, and tons of "on street" parking. This house is surrounded by local neighbors, not CC students. It gives more of a Springs community feel. Good trees, grass and flowers. 
$3600 (just $600 per month per person with your group of six.)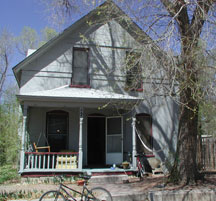 418 East Columbia – 5 blocks to CC
5 blocks to CC                   5 bedrooms, 2 bathrooms, living room, dining room, some off street parking, washer & dryer, loads of storage. Across from Good Neighbors Meeting House, on bike path, , ample street parking, a quick bike ride to CC and downtown.  
$2000 per month ($400 per month per person with your group of 5)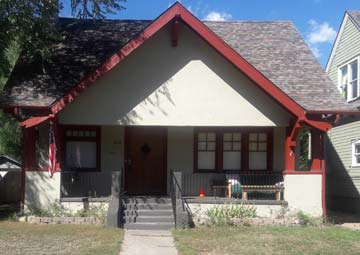 828 N Wahsatch – 2 blocks to CC
2 block to campus
Roomy house with 5 bedrooms, 2 bathrooms, 2 living rooms, dining room, big kitchen, disposal, dishwasher, ice maker, fireplace, washer & dryer, private back yard, 2nd fridge in the basement, where the second big living room is.  Great front porch with porch swing.  Off street parking and two spots on street.
$2875 per month (575.00 per month per person with your group of 5.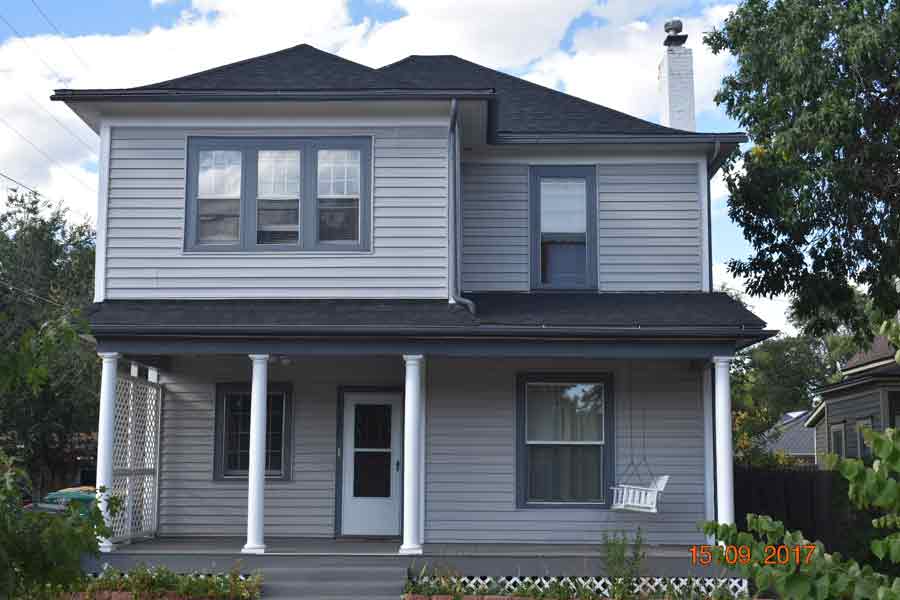 220 East San Miguel – 1½ blocks to CC
Beautiful two story, 5 bedrooms, 2 1/2 baths, eat in kitchen, dining room, living room, wood burning fireplace, hardwood floors, private backyard, big front porch with swing, washer & dryer. 2 big refrigerators. Good bike parking in fenced back yard. Famous costume closet!  Covered by North End Homeowners security patrol.   Storage in the basement.
$3000 ($600 per month per person with your group of five.)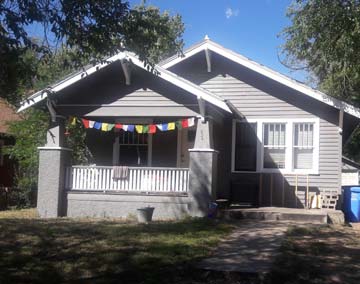 824 Wahsatch Ave. – 2 blocks to CC
5 bedrooms, 2 bathrooms, Great  Bonus Activity Room/ artists studio/ music room? new kitchen with dishwasher, washer and dryer,  great yard.  off street parking
$2625/month, ($525 each with your group of 5)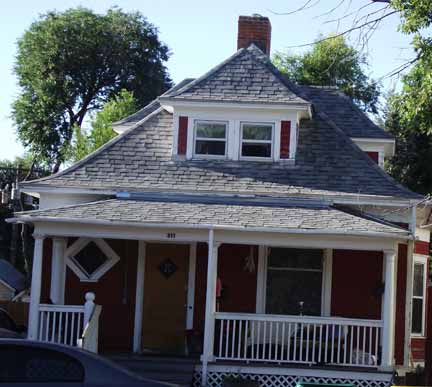 311 Cache la Poudre (2 buildings) – 1.5 blocks from campus
Main house has 5 bedrooms, 1.5 bathrooms, great pantry, dining room, living room, new kitchen, redecorated enclosed back porch, laundry room AND a 2 bedroom cottage (or one bedroom with separate living room), with new kitchen with dishwasher and new bathroom. great backyard, covered patio! off street parking, lots of great storage! The main house has a big basement for storage. The newly remodeled cottage has it's own kitchen, bathroom, dining area and two bedrooms. Great for those roommates who play their  music TOO LOUD or the ones who prefer quiet and their own space.  (you get 2 kitchens and  2.5 bathrooms and either 6 or 7 bedrooms) off street parking  and two spots in front.
$4200 /month ($600 each with your group of 7)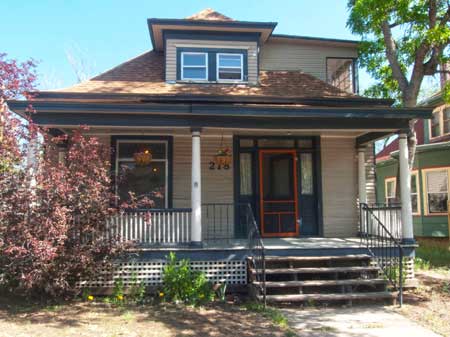 218 E Uintah – ½ block to CC
6 bedrooms, 3 bathrooms, livingroom, diningroom, great kitchen (2 fridges)diswahser, mud room, store your bike inside! Great layout, each floor has two bedrooms and a bathroom! off street parking, fireplace, fenced yard, washer & dryer, loads of storage in a very charming house.
$3600/ month ($600 per person with your group of 6)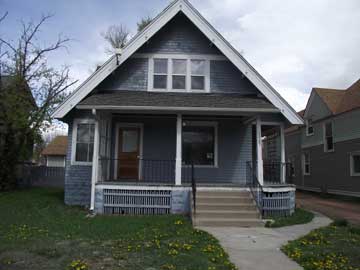 1027 Weber – An easy one block from the middle of the Colorado College campus
this Weber Street two story house has 5 or 6 spacious bedrooms, 2 full bathrooms, newer kitchen with dishwasher,  a nice living room/dining room, hardwood floors, central air!  A great front porch, and a big, clean basement with Washer and Dryer and loads storage.  Plenty of off street parking. 
Welcome to our Colorado College (CC ) housing rental page! We have been renting to CC students for 20 years. We have these houses and rent specifically to Colorado College students for a few reasons, the first and probably most unusual one is that we actually like Colorado College students! One of our owners is a CC alum, Colorado College 1962! We know other landlords who don't like the constant turnover of CC students and are maybe even a little afraid of young adults. We think that is odd, but their fears have given us an opportunity.
Don't worry, we don't expect to be your best friends or to be invited to your college parties. We only expect to hear from you when you have a question about the house or you have a plumbing problem, (that can happen in these old houses built before Colorado College ( CC ) began to spread its wings). We do expect to hear from you , on the first of the month when the rent is due.
We reach out to you from time to time, with notices that we will be coming into replace a floor, paint a
room or make other improvements. Over the years we've gotten a pretty good reputation around Colorado College ( CC ) for maintaining our Colorado College rental houses and being responsive to problems that you bring to our attention.
We have everything from small 5 bedroom 2 bath CC College rental house to the front house with back cottage for 7 Colorado College students.
This article is for Colorado College students looking for a CC off campus house to rent.
Here are some highlights for renting one of our Colorado College rental houses.
You'll need to go through Colorado College's ( CC ) Living off campus workshops, this isn't our rule, its Colorado College's rule and its probably a good one. As we understand it, one of the things Colorado College stresses with CC students wanting to live off campus is the need to meet your non Colorado College neighbors and make sure they stay friends of CC! That means being respectful in parking, let them know when you are going home for the holidays and when you will be returning to Colorado College and Colorado Springs. Keep them posted on when you are planning a CC college party and be sure they know how to contact you. (your phone number is better than your Colorado College email address.) Its better if they call you with a problem than the police, us, or Colorado College!
But before you go through the workshop you'll most likely want to check out the available off campus housing around Colorado College, the seniors in the CC community are generally happy to share information about their houses. Our Colorado College rental houses rent earlier and earlier every year. We promise/lease houses to CC students in the Fall the year before the June they want to move in. By Halloween 2017 all of our CC college rental houses had signed leases for the 2018-2019 Colorado College school year.
Your group will put down a $2000 security-damage deposit to hold the selected Colorado College rental house of your choice. CC students have until April to pay your June rent and after that your rent will be due on the first of each month starting in July. It may sound complicated but it really isn't and we trust that Colorado College has the quality students that can understand this.